A Banner Achievement
At Sacramento State, the Hornets' success on the basketball court isn't the only thing that's got the campus buzzing. The in-plant's wide-format work is cropping up everywhere, bringing new visibility to the print-on-demand operation.
After the Sacramento State men's and women's basketball programs enjoyed a banner 2014-15 season, Athletics Marketing and Student Affairs called on Reprographics & Mail Services to provide a most fitting tribute to the Hornets: a banner.
Spanning 30 feet in length over the pedestrian bridge crossing the American River at Sac State, this banner is anything but pedestrian. The three-foot-high vinyl signage serves as a can't-miss, enduring and endearing display of Hornets pride and commemorates both teams' first Division I postseason tournament appearances.
Buzz-creating banners and a variety of decorative and functional signage are widespread on the California campus thanks to the wide-format printing capabilities of the university's in-plant. Led by Director Michael Kalstein, Reprographics & Mail Services boasts a budget of $1.8 million and specializes in short-run on-demand printing, in addition to its wide-format work. Reprographics comprises seven full-time staff members, plus three students, and Mail Services has an additional five employees. Supporting Kalstein in managing the in-plant are Assistant to the Director Laura Lockett, and Production Supervisor Brian Geimer.
"It takes a dedicated team, skilled leadership and a supportive administration to continue to do great things for our campus," declares Kalstein.
Sacramento State, part of the public California State University system, sits on the banks of the American River, four miles east of the state capitol in Sacramento. Its 300-acre campus houses seven academic colleges offering 58 undergraduate majors. In 2013-14, the university conferred nearly 6,000 undergrad and 1,000 graduate degrees.
Reprographics has been an all-digital production facility since August 2014, following the retirement of its last Heidelberg Quickmaster offset press. The transition was planned and "all about meeting the needs of our campus," according to Lockett. Mail Services is a complete "one-stop-shopping" provider of bulk mailing, addressing, labeling, folding, tabbing, inserting and more.
Adding Equipment and Services
Lockett credits an improved budgetary year, a dynamic production team and the support of university administration for making possible the in-plant's recent technology acquisitions and initiatives to revamp, modernize and increase efficiencies. For example, a new Memjet-powered Neopost color envelope printer has allowed the shop to bring envelope printing—formerly outsourced—in-house, enabling much faster turnaround.
"Our campus letterhead and envelopes have a gradient screen of our logo in the background, and the Memjet printer was the only printer that could handle the gradient," explains Lockett. "It also allowed us to match the Pantone colors more accurately."
The in-plant also invested in two wide-format color printers in October 2014: a 64˝ HP Latex 360 and a 44˝ HP DesignJet Z5400 aqueous inkjet printer.
"The 5400 replaced a 44˝ Epson Stylus Pro that we ran the heck out of," she says.
The shop is producing a variety of large-format output, including vinyl banners, adhesive vinyl products, foam-core mounted signs, posters, photo enlargements and is working on printing signage on perforated window film.
On the back end, the in-plant invested in a new Duplo DC-616 PRO slitter/cutter/creaser.
"Talk about increased efficiencies, this has reduced turnaround on a business card set from 15 minutes down to four," Lockett reports. "When you run an average of 40 sets a month, that adds up."
Another bindery addition is an MBO folder for tri-fold and larger-format folding.
The new equipment augments the capabilities of existing digital presses, including an HP Indigo 5500 color press. The 5500 produces quality work for the campus on numerous projects and is also used for student design projects, including an award-winning student magazine.
Partnering with Students
For the Department of Design, the in-plant partners with students to produce projects on the 5500 including typography books and magazines intended to serve as portfolio pieces. Lockett actually goes to classes to consult with students about Reprographics' services (although students are not obligated to use the in-plant for projects) and throughout production.
"For example, we go over files with them, ensuring that bleeds are in place and images are the correct resolution," she explains. She also teaches print production in the fall.
"The student typography book always incorporates a challenging component, such as a pop-out or fold-out," she notes. "We worked with a student who built a staircase simply using a flat piece of paper that was cut and folded in a particular way in his book, which won an award for digital printing from ACUP (the Association of College and University Printers)." The in-plant also won an ACUP award for a wide-format banner it produced, and has received more than 40 printing awards in various competitions with other California and Nevada printers.
The in-plant works with Psychology majors to produce posters highlighting their final-year thesis projects for display and use at a conference the students attend. New technology has allowed the shop to improve poster durability and portability.
"Previously, we printed them on the old Epson, but now that we have the latex [HP 360] printer, we can print the posters on fabric instead of paper. So rather than transport in tubes, the students can just fold them and throw them in their suitcases," Geimer relates.
Athletic Support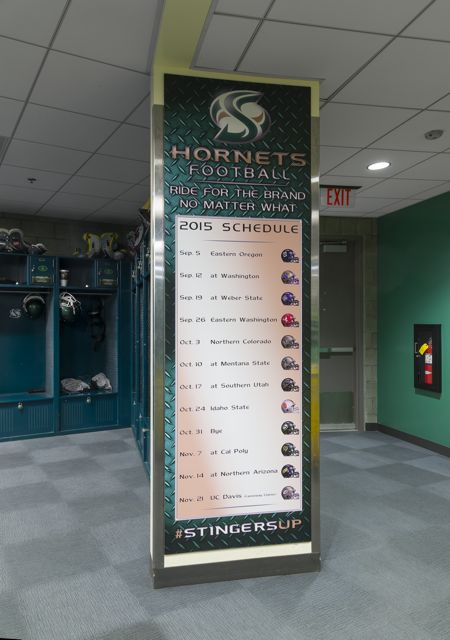 For the Athletics Department, the shop serves every single sport, generating everything from playbooks to marketing collateral to poster collages to wide-format banners, including a 30˝x8.5-foot vinyl schedule that hangs on a pillar wall in the football team's locker room.
"[The department] was going off campus for retractable signage, but we're now able to provide that and, when all was said and done, we saved them $600 on just one sign," Geimer adds.
Reprographics supports the College of Continuing Education's Conference and Training Services Division with wide-format easel signs, program guides, table tents and registration brochures. It creates custom binders for In-Home Supportive Services training sessions and workshops held throughout California.
When applicants are admitted to Sac State, the in-plant prints personalized certificates and acceptance letters on behalf of the Admissions Department and mails them to the new students. The shop supports alumni fundraising efforts by generating personalized annual fund and special appeals using variable data and mass mail-merge capabilities.
The in-plant prints the theater department's programs, brochures and postcards and has produced vinyl banners that hang outside of campus theaters. It provides similar services to campus galleries and other arts venues and events.
Reprographics even sells advertising space on its mail delivery carts at a monthly rate of $50. Advertisers include the Athletics Department and the Sac State student OneCard, which is accepted on campus and by vendors around Sacramento for payment or discount.
Technology Opening Doors
New technologies are "opening doors that we didn't have before," Lockett asserts. "Every day we have something new that we can do." Thus far, the in-plant hasn't come across any substrate that it can't run on the HP 360.
"What we're doing right now is a limited sample of what we can do," Geimer adds. "This printer is still pretty new to us." Still, it's already an obviously wise investment; in fact, the in-plant has already achieved a 50 percent ROI for the HP 360 system in just 9 months and the HP5400 has achieved 100 percent ROI.
The in-plant did communicate its wide-format capabilities to the university's Marketing Council and promotes its overall services via the Business Partners Roundtable and in official new employee packets, but Lockett believes that the operation could market itself even more.
"We have some plans in place, such as updating our website, holding an open house and we're launching a Reprographics and Mail Services user guide/swatch book with a limited run of 200 at the end of this summer," she says.
Looking ahead, the operation is investigating direct-to-garment printing for student clubs and activities, though Lockett says the process hit a snag.
"We discovered that, if we wanted to print on a darker shirt color, we would have to pre-treat the shirts extensively, so that's still on the shelf right now," she says.
Due to space and other considerations, it still makes sense for the shop to outsource some work, notably commencement programs and certain magazines that are better suited for web offset production.
"We identify what customers need and, if we can't do it, we become facilitators," she acknowledges. "We're really fortunate. We're really good at what we do and we have great relationships with several large printers in the Sacramento area."
Lockett is proud that Reprographics & Mail Services is dedicated to satisfying customers and supporting the university. "I can't say enough about the importance of personal relationships and building partnerships," she declares.
Adds Kalstein, "Researching new technologies and planning for future needs for the university while maintaining a high standard in our everyday operations makes our shop exemplary—as our many satisfied customers will tell you."
Related story: Thinking Big Leads To Big Profits