Cedarville University: Modernizing, Expanding, and Adding Value
By Toni McQuilken
When Tammy Slone, director of retail services at Cedarville University, began overseeing the in-plant again after several years of managing the bookstore, she was quick to realize it needed some upgrades. To expand the in-plant's value, she decided it would need to offer additional services like contour cutting, flatbed printing, and engraving.
Over the past few months, the Cedarville, Ohio-based in-plant has made several new acquisitions to begin offering these services. They are already starting to pay off.
Slone oversees an impressive operation that includes five full time and 12 student employees on the bookstore side, and another seven people on the printing and mailing side, with three of those dedicated to printing. She started on the print side of the business back in 1995 for the university, before moving around to several different departments — including a stint back in the print and mailing operation in the early 2000s — before taking on the bookstore in 2012, which she notes, "needed a lot of attention, and I was looking for a challenge."
After she had a great deal of success there, the previous in-plant supervisor decided to step down, and Slone once more found herself on the print side of things.
"I made the decision to come back and devote time to this operation," she explains. "Now, about 90% of my time is dedicated to the postal and print operations. Of all the things I've worked on, I just get so much satisfaction out of print."
Her first order of business was "a significant investment into the operation," with new capabilities to support both the current volume the in-plant sees, as well as "take us into new things," Slone says.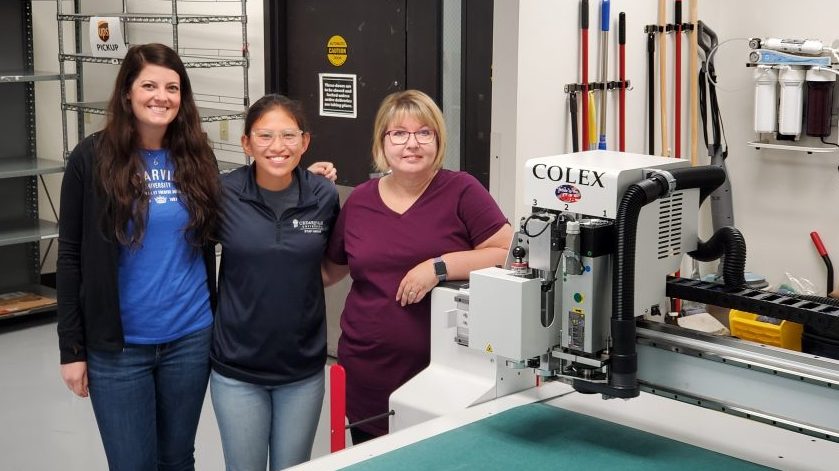 Laser Engraving

Installed in the spring of this year, an Epilog CO2 and fiber laser engraver is one of those new pieces of equipment. And while Slone hasn't had a chance to do any marketing yet, already word of mouth is spreading.

"We had a huge bus tour across the nation to help bring visibility to the university. As part of that, at the last minute they decided they wanted everyone to have tumblers engraved with "Transform Tour" — the name of the event — and the person's name. That was the first job on the engraver a week after I had it installed."

She notes that the in-plant produced one for the president of the university as well, so "we got high visibility on that right out of the gate."

The engraver is also going to allow her to "right size" inventory for the bookstore, which currently orders large volumes when it needs to restock an item. With the engraver, she says, the in-plant can order blanks and then just engrave them as needed.

This piece of equipment will also enable the shop to start producing awards in-house. In fact, the in-plant produced the first one as soon as the device was installed, to recognize a retiring employee. The shop was able to create a piece complete with an engraved photo, "and [the CFO's assistant] was in tears, it was so beautiful. So again, we demonstrated this capability to a cabinet-level person right out of the gate."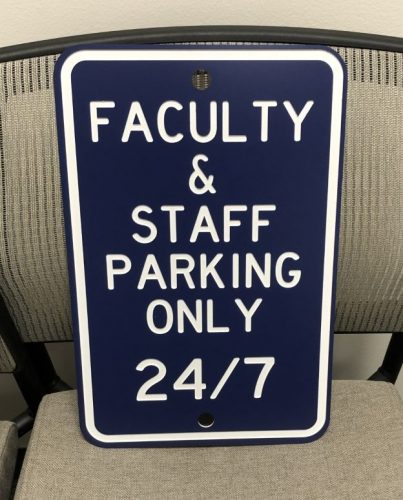 Contour Cutting

Slone is also excited to add a Colex Sharpcut SX1717 digital cutting system to the in-plant. Industry wide, contour cutting has shown the most impressive growth of any service, with 35% of in-plants now providing it, up from 26% in 2020 and 16% four years ago, according to a new IPI research report (Trends and Services in the In-plant Industry).

The in-plant plans to use the cutter to produce items ranging from signage to nametags, as well as life-size cutouts of athletes, or custom shapes for window and door graphics. Slone also notes the cutter will improve the quality of the education for students.

"We have a class where they have to design packaging, and it's been very limited on the size of the box they can produce, since we had to send it off campus," Slone notes. "Now, instead of one template, they'll have maybe five, and they will be able to interact with it. Right now, if it comes back wrong, there's nothing they can do; with us, if they don't like the result we work with them to see what's going wrong, and they can tweak it. That is going to greatly enhance the experience."

"Ultimately, combining all these pieces of equipment is going to let us do some really cool things."

—Tammy Slone
Eco Solvent Printing/Cutting

While the in-plant had a latex wide-format printer for years, it was starting to get old and was out of its service window. Slone decided to go with eco-solvent technology for its replacement, in part because the Roland TruVis VG2 640 printer/cutter allows the shop to print and cut on the fly. In the past, it was labor intensive, she says, to produce items like floor graphics or stickers.

"Now we can print and cut on the same machine," she says.

The in-plant produces much of the signage on campus, and did a lot of print-and-mount jobs for rigid applications on the old latex printer. Rigid work will move to the new flatbed printer, she says, but the Roland will continue to produce the soft applications such as outdoor vinyl banners.

"We put that in about six weeks ago, and we're just starting to print on it," Slone says. "We really like it. We have the orange ink add-on, which gives us a lot more color gamut."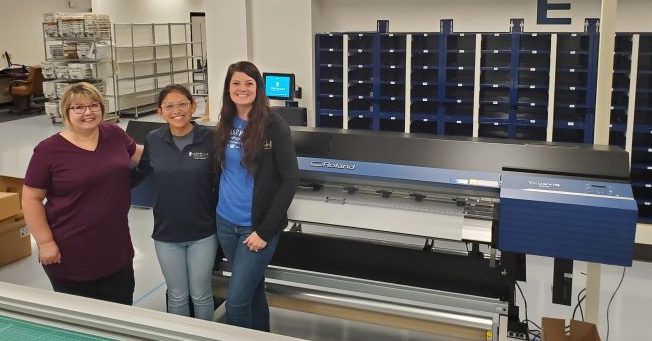 Flatbed Printer

Speaking of a flatbed printer, the in-plant has ordered a Roland VersaUV Lec2 640 flatbed. (It was supposed to have arrived already, but supply chain issues have delayed it, and Slone hopes to see it installed in August.) She added both the clear and white stations, which will "add a whole new level of capability." Having a flatbed printer is going to open up opportunities such as the ability to print braille or use spot gloss to highlight specific areas on direct mailers. However, Slone also sees the flatbed as having the biggest learning curve for her staff once it arrives.

"It's a UV printer, which is a different animal than eco-solvent or latex, and it will require more maintenance," she says. "But the results we're going to get will be phenomenal, and the creative services department is so excited about all this new stuff."

"I can't tell you how much we'll make, but it's going to be a lot, and it's going to save a lot."

—Tammy Slone
Heat Transfer Press

"We're also getting into the transfer business," Slone says about another new piece of equipment she's ordered, a Hotronix Fusion IQ heat transfer press. Now, Slone says, the bookstore will be able to customize shirts for different sports and events, and re-stock just the sizes needed. This will also allow the in-plant to offer custom shirts for small events, which might only require a handful of items.

"Ultimately, combining all these pieces of equipment is going to let us do some really cool things," says Slone. "When I made the case for getting [the new equipment], we had the old ROI question. And I told them that I can't tell you how much we'll make, but it's going to be a lot, and it's going to save a lot. I can't say we'll make X number of dollars, but the cost savings alone is worth it."

As the installations are completed and her staff is trained, Slone sees this opening up a tremendous amount of growth and creativity on campus. Since the in-plant is part cost recovery and part budgeted, having the ability to generate more income will be a boon, and will allow the shop to continue to serve campus far into the future.