Solo Acts: The Trials of the One-Person In-plant
They get the same work everyone else gets, but they do it all alone: every impression, every fold, every stitch. Here are some of the challenges faced by one-employee in-plants.
By Bob Neubauer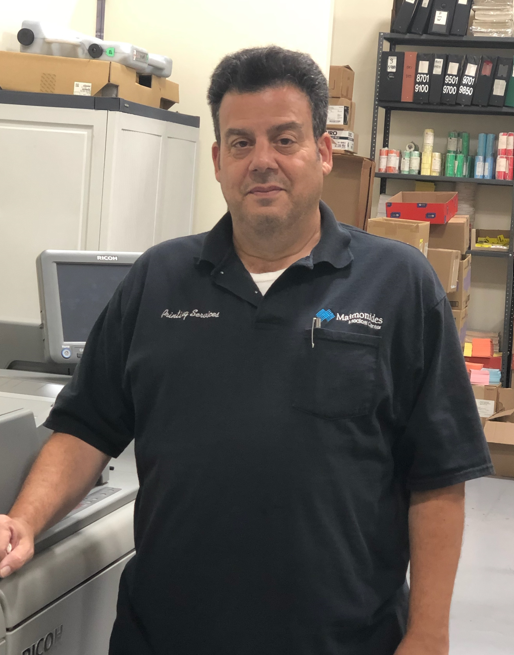 With his radio to keep him company in his small print shop inside a Brooklyn, New York, warehouse, Peter Callari knows his job forward and backward. Whether he's printing forms, patient handouts in different languages, or staff training manuals for Maimonides Medical Center, he moves easily between his in-plant's digital press and bindery equipment, ignoring the constant blaring of the warehouse loudspeaker.
"I just know how to do things," he says, with the confidence of a 42-year printing industry veteran.
There was a time, back when he started at the hospital in 1993, that his in-plant had seven employees, including three press operators. But those other jobs disappeared over the years.
"Now it's down to just me," he says.
Such is the lot of countless in-plant managers around the country; their staffs have been whittled down over the years until they alone remain to carry on the good work of printing for their entire parent organization. These one-person shops are saddled with much of the same work larger in-plants must handle, but they do it all alone, running every piece of equipment themselves. They get the rush jobs and the recurring high-volume orders like everyone else, but they have no one to help them get the work out the door.
Walter Ryan has managed the Print Shop for the City of Bangor, Maine, on his own for the past five years.
"I think it would be safe to say it ages you quicker," observes Walter Ryan, Print Shop foreman for the City of Bangor, Maine, who has been on his own for the past five years after budget cuts took away his part-time assistant. He now single-handedly prints for City Hall, Public Works, Parks and Recreation, the police department, the airport, and Bangor's school district.
"It does wear me out, being one person," he admits.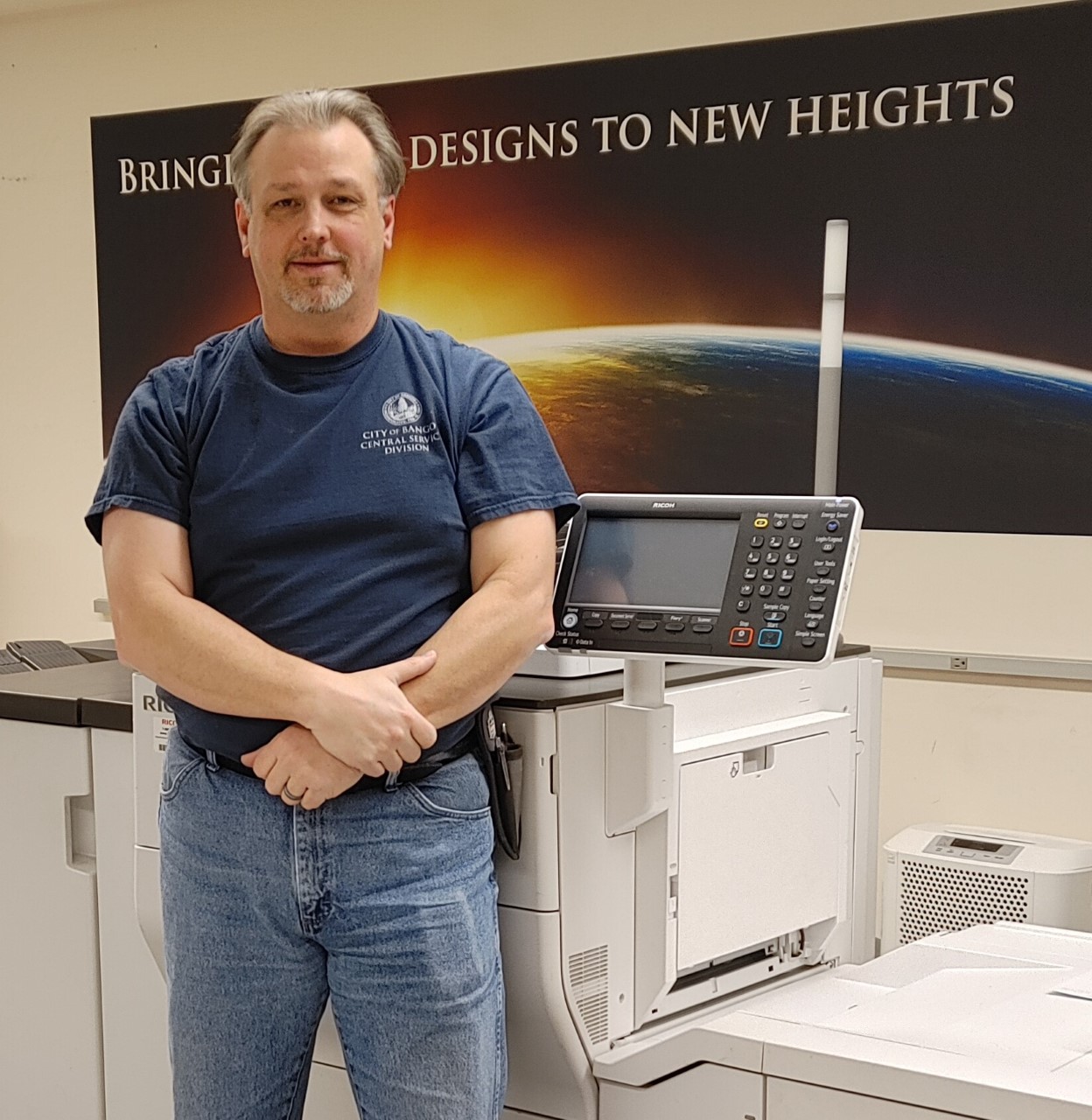 'We're Always Busy'

At another city in-plant across the country, Karl Hurst, Print/Mail Services supervisor for the city of Renton, Washington, feels Ryan's pain.

"We're always busy. Never caught up," he observes.

The hardest part about having to do it all, Hurst says, is not being able to do it all at the same time.

"Last week I had 500 booklets I wanted to face trim, so I'm back around the cutter. It's noisy. I can't hear the phone ring. There's a delivery coming in upstairs. Too many things at once is my biggest problem, and being pulled in all the different directions," he relates.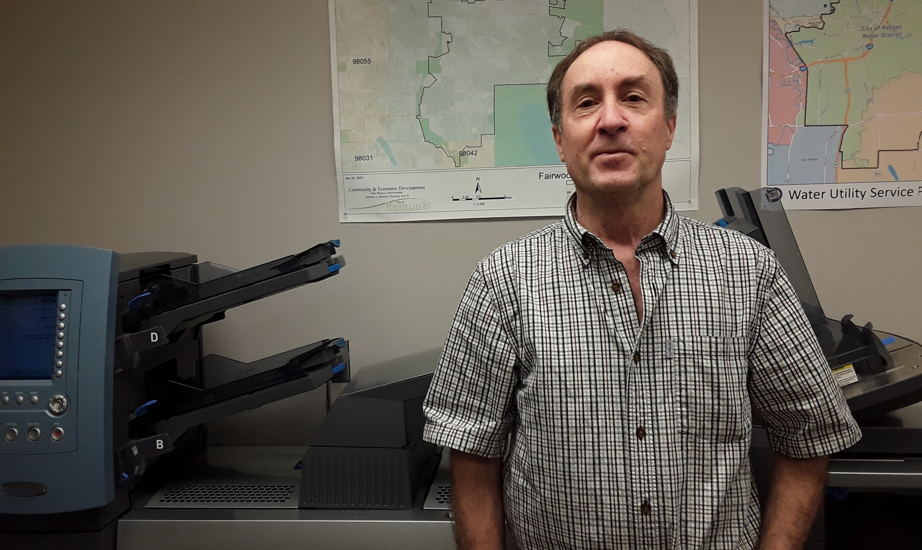 His largest job is printing and inserting utility bills, which takes three or four days on his shop's Xerox Versant 180, tucked away in the basement of Renton's seven-story City Hall. He also prints other bulk mailings in addition to wide-format banners and signage.
Though Hurst outsources longer-run work like the shells for utility bills, he prints 70% of the city's jobs in-house, in addition to handling other duties like invoicing, budgeting, ordering the city's copy paper, and fixing the occasional customer file to make it print-ready. But production comes first, leaving him frustrated at times about the things he can't get to.
Having to do all the production every day and not wanting to get behind, there's just a lot of things that go by the wayside.

—Karl Hurst
"Having to do all the production every day and not wanting to get behind, there's just a lot of things that go by the wayside," laments Hurst, who has worked for the city for 25 years. "That's what bothers me the most."
"I literally have to take a day to close out [i.e., bill] jobs," adds Ryan — a day that he can't get any printing done.

Space for One

Another problem typical of small shops is having a very small space to work in, which impacts the type of work they can handle and how much they can get done. In her cramped print shop at Juniata College in Huntingdon, Pennsylvania, Print Services Supervisor Heather Bloom has a limit on the size of jobs she can take on.

"I won't do a mailing over 16,000 because you usually have 30-some trays, and we just don't have the room to accommodate that," she points out. "Without another person, it's hard to do that volume of a job."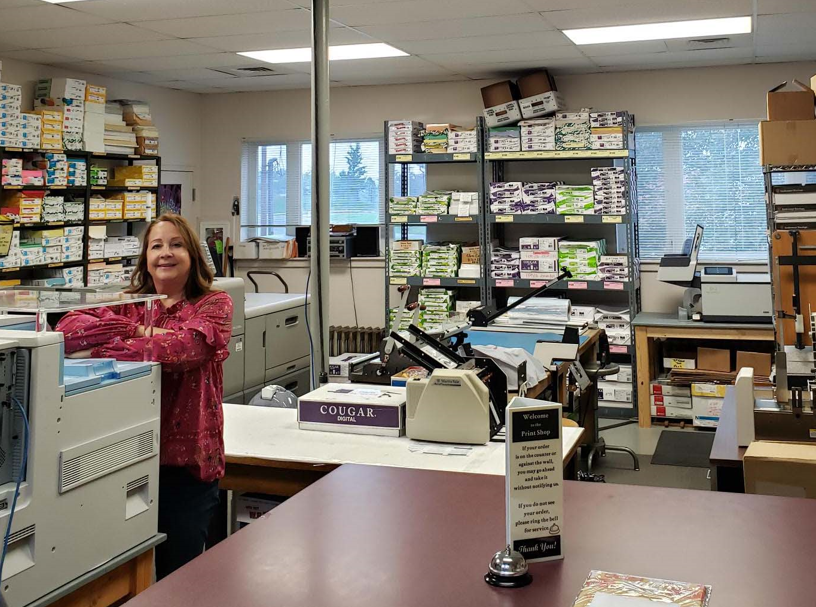 At her in-plant for two decades now, Bloom saw her position shrink to part time at the beginning of the pandemic. Her part-time assistant was furloughed at the same time and later found another job. Bloom pushed back, and with her supervisor's help, regained her full-time status, but became a solo act.
"They don't realize how much money they're savings and the turnaround time they're getting," she says, noting that she handles everything from letterhead and envelopes to postcards, sports programs, and signage — as well as outgoing bulk mail — for the 145-year-old private liberal arts college.

Hard to Say 'No'

Knowing how much money they are saving their organizations by printing in-house makes it difficult for dedicated managers to turn any work down — even when they know they're strapped for time.

"When somebody comes along and says, 'I need this printed product. Do you do this?' I always say, 'yes,'" says Dave Weber, the only full-time employee at the Highline College Print Shop in Des Moines, Washington. He knows he may have to outsource part of a job, but he's determined to keep his customers happy.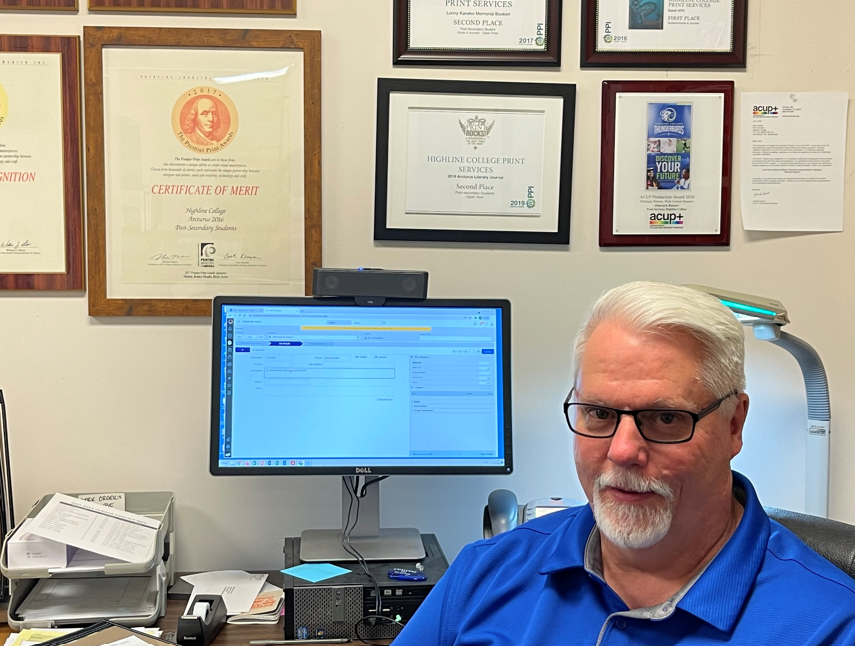 "If there's a way to get it done, I'm going to get it done," he insists.
Just 10 miles north, fellow Washington state manager Hurst faces the same struggle in the City of Renton's in-plant.
"When you get a big mailing in-house and you feel like you can do it yourself — you know you can mentally do it, and you know how to do it — but … it's two or three days' worth of work," he ruminates, listing all the steps involved in such a large mailing. "Those big projects just kill your workflow. So, then you get into the struggle with whether or not to outsource it. I've always tried to do everything, and it killed me. So now I just outsource more."
This bothers him, though, because he knows outsourcing will cost more, but he's up against his limits.
No Time to Plan

This strong urge to save the organization money by doing more also leaves solo managers with little time for other important work, like planning for the future.

"The biggest problem I have is, there's times when I wish I wasn't doing the hands-on work," admits Weber, who prints business cards, booklets, brochures, banners, window graphics, and much more in his atypically spacious 5,000-sq.-ft. plant. "The reason is because I'd like the shop to grow in a lot of different ways — with technology, with equipment. I wish I had the time to invest in researching that. When you're busy doing production, you sort of have to put all that stuff on hold."

Such is the lament of many a one-person in-plant.

"I don't have time to do in-depth research of anything," sighs Hurst. He worries that his limited ability to properly examine all the available equipment may have resulted in his shop getting equipment that wasn't a perfect fit.

Some one-person in-plants anguish over whether or not to promote their services, knowing it may bring them more business than they bargained for.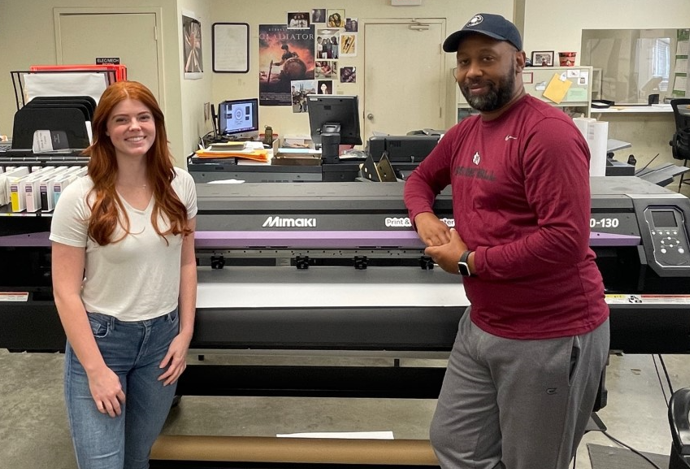 "I'd love to market to the students a lot more," says Kevin Walker, Print and Copy Center manager at Meredith College in Raleigh, North Carolina. He knows he could save them money, but he doesn't want to get in over his head with new work.
"I probably couldn't handle [it] if 1,800 students just started sending stuff every day," he points out.
At his in-plant for 20 years now, Walker prints everything from course catalogs, syllabi, and tests, to flyers, banners, and posters.
"We keep pretty busy. Even though we're small, we turn out a pretty decent amount of work," he says. His biggest challenge: "Being able to handle huge quantities of items at times."
Though he once had a full-time assistant, he now employs a part-time grad school student to help with production, and has work-study students in the shop at times. Some of the other shops also have access to student workers or part-time help. Weber — whose in-plant at Highline College once functioned as a training program, with him as the teacher — employs interns and students. Hurst is aided by a part-time employee at the City of Renton who sorts mail and drives the delivery van, in addition to helping in the shop. Bloom occasionally gets help from a Juniata student worker. In the City of Bangor's in-plant, Ryan can sometimes get assistance on big projects from city clerks or a maintenance worker, whom he also helps out when needed.
Justifying New Equipment

One-person shops face varying degrees of difficulty trying to justify the cost of new equipment and software.

"The cutter was a six-year fight," says Ryan, whose requests for a replacement paper cutter kept getting denied. He would love to get a Web-to-print (W2P) system but he's more focused on upgrading his digital press and doesn't want to bring too many requests to his boss at once.

In Renton, Hurst also needs a cutter but wants a new mailing machine even more. For him, it comes down to "What do you need the most?"

At Juniata College, Bloom also struggles to justify her new equipment needs.

"It's difficult to convince them. Usually it's when something breaks," she says — such as when her laminator bit the dust earlier this year and replacement parts were unavailable. She was eventually permitted to get a new 44˝ mounting laminator to print long banners.

Weber was able to install a new digital press last year, but his request for a new Macintosh is still on hold. Only Walker reports having little difficulty getting the equipment he needs. It doesn't hurt that his in-plant is part of Technology Services at Meredith College.

"My direct supervisor, she pretty much trusts that I'm not asking for anything that I'm not going to use," he says.

Web-to-Print and Print MIS

Walker's shop was helped tremendously when he implemented PageDNA W2P software after learning about it at an Association of College and University Printers (ACUP) conference.

"It just helps us plan things a lot better," he says, especially compared to the days when customers emailed jobs and expected them the next day. Thanks to W2P, he can schedule work better and offer more realistic turnaround expectations.

Weber, who met Walker at ACUP, uses PrintReach MyOrderDesk for job submission and EFI PrintSmith Vision as his Print MIS. Though they help a lot, he frets that the two systems aren't integrated, and he has vowed to upgrade his MIS before retiring so the systems can work together.

Most of the other one-person shops do not have the luxury of Print MIS and W2P systems. Juniata uses a work order management system created by the IT department. The City of Bangor's in-plant uses the inFlow order and inventory management system. Hurst uses a SharePoint form for online job submissions and relies on a lot of Excel files to keep track of projects.
I'm able to do it my way. There's no one here to tell me 'don't try it.' If you're allowed to experiment … that opens a lot of doors.

—Walter Ryan
The Perks of Solitude

Despite the hardships of running an in-plant alone, there are certain perks as well.

"I'm able to do it my way," notes Ryan. "There's no one here to tell me 'don't try it.' If you're allowed to experiment … that opens a lot of doors."

This freedom gave him the opportunity to design a unique pocket folder to hold first-day-of-school materials for parents. It was a hit and has now been adopted by all schools in the district.

"I can work at my pace," he continues. "There are times I can turn up the radio and no one's going to tell me they don't like the music."

"I probably have it easier just in the fact that I have less to manage," adds Hurst. No staff means no performance reports and no dealing with the morale and performance problems larger in-plants face.

For the most part, these one-person in-plants are well respected in their parent organizations for their hard work and dedication.

"The boss doesn't bother me because he knows I'm doing my job," says Callari, of Maimonides Medical Center. Whether he's printing items needed by the hospital or packing boxes with requested inventory items, he's proven himself a valuable resource for the hospital.

"I never call in sick. I'm here all the time," he says. "I know what I'm doing."

And he no doubt speaks for all one-person in-plants when he concludes, "They're going to miss me when I'm gone."