Colorado DOT Adds DI Press
By installing a direct imaging Presstek 52 DI press, not only did the Print Center at the Colorado Department of Transportation boost its productivity, it also boosted workplace morale.
Print Center Manager Alvaro Duran says the new four-color offset press has been up and running since July, after replacing a 30-year-old two-color Sakurai press. With the increase of four-color work coming into the Denver-based in-plant, Duran says it was time to "get out of the dark ages" of printing four colors in two passes.
"It's really added quite a bit of enthusiasm back into the shop because with the two-color [press], you just pray that your 40,000-sheet run had the first two colors down good," he says. "And you hope there isn't enough shrinkage on the paper so that it doesn't look good."
The Presstek DI is now the main offset option in a fleet of printers that also includes two black-and-white Océ devices and two Canon digital color printers. In making the move to direct imaging, Duran explains the in-plant has realized immense time savings. With the old Sakurai press, the Print Center not only had to go through the plate making process, it would take substantially longer to get the press up to color specifications.
"We eliminated having to go from prepress to making plates and hanging plates," Duran states. "Now it goes right from our prepress to the press. We burn the plates on the press, and within 30 or 40 sheets you're ready to roll."
While the in-plant produces a variety of the forms for the state's Department of Transportation, the new press has allowed the Print Center to take on some complex projects it would have had to pass on previously. One recent job was a document for law enforcement professionals who successfully passed the Drug Recognition Expert Program. The document was printed on a 100-pound gloss cover with a varnish. It was solid black with a sunburst effect, complete with an image of an eagle with the iconic Colorado "C" emblazoned on its chest.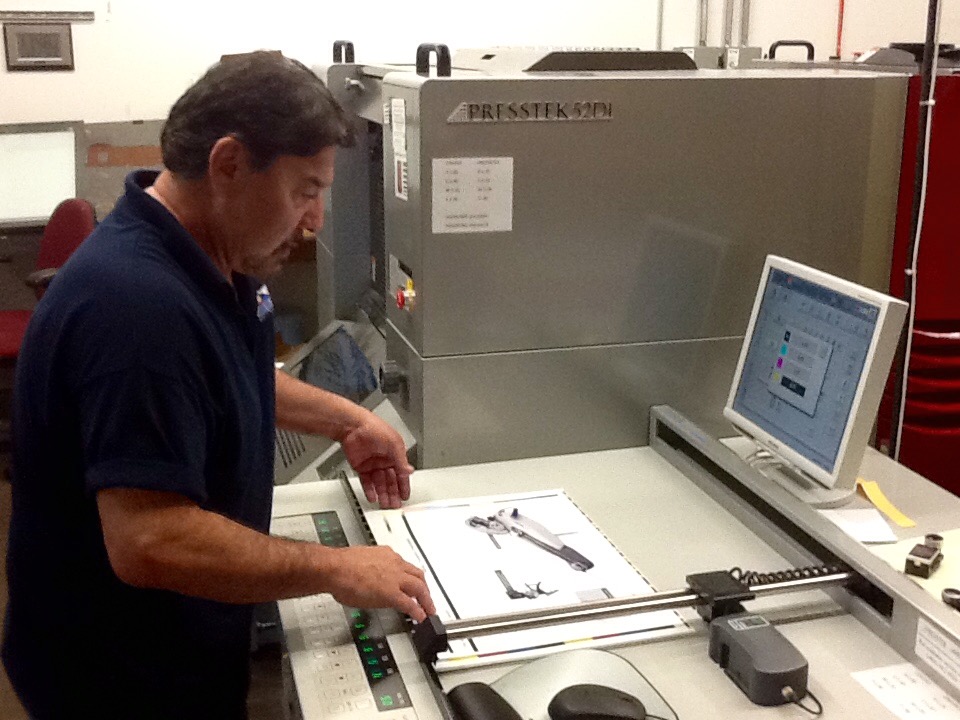 "You had to have your outlines of where the foil hit and where the varnish hit," Duran says of the complicated job. "So on a job like that...we would not have taken it on, not with that complexity, on our other press."
Being able to take jobs on the Presstek that the Sakurai would not have been able to handle has helped keep work flowing to the in-plant instead of to an outside printer.
"It's really helped keep more [work] in house, which is adding value because money's not going out," Duran says.