The Perks of Print-to-Post
In-plants that have merged printing and mailing into one operation are enjoying the benefits of efficiency and cost savings. But how easy is it to accomplish this integration?
Merging print and mail services is an ongoing trend in the in-plant industry. Ten years ago, half of all in-plants oversaw the mailing operations at their parent organizations; today that figure has crept up to nearly two-thirds. And why shouldn't it? Many of the items in-plants print end up in the mail stream.
"Being able to offer full service from design to mailing is a great advantage, assuring mail pieces are properly designed for the maximum postal discount," notes Tim Hendrix, Oregon State Printer, pointing out one of the many advantages of integrating print and mail. Another is proximity.
"Prior to our merge, we would box up and palletize large mailings from the bindery or copy center and truck them to mailing. Now, we just take them downstairs in the elevator, creating a much more efficient workflow," says Frank Davis, director of Creative Communications at the University of Washington. What's more, he adds, print and mail operators are cross trained, so they can jump in where they're needed.
While UW and the State of Oregon consolidated print and mail decades ago, other in-plants merged the two departments more recently, like Burlington County College, of Pemberton, NJ, which brought mailing under the supervision of the in-plant in 2012. Accomplishing this print-mail merger can be rough, managers say, but it's certainly not beyond the ability of an in-plant manager.
"It was really easy for me," remarks Wesley Grigg, manager of Print and Mail Services at Elon University, who incorporated mailing services into his Elon, NC, in-plant about a year and a half ago. He already had the necessary management skills, and the campus trusted him as an authority on printing, so he had the support he needed to make the merger work.
Grigg had mentioned the benefits of a joint print-mail operation to his supervisor several years ago. In 2013 he was offered the position. "And I jumped on it," he says. "It was something that I wanted."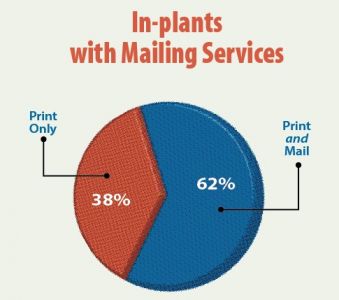 For one thing, he felt that offering mail services put his in-plant in a more secure position than just providing printing. But it also brings more efficiency and cost savings to the university.
"It's so much easier to have the workflow of printing and going right to the mail machine," he points out. "We're printing 90 percent of the [pieces] that are being mailed."
His biggest challenge was managing print and mail in two separate locations, he says. But when Print Services recently moved into larger quarters, he brought the inserting and bulk mail equipment into the new facility, allowing for a more efficient workflow.
He acknowledges that his workload has increased since taking on mailing.
"You definitely better keep in mind that you may need to hire an assistant manager," he says. But the benefits of integrating with mail have been many.
"It was really received well across our campus," he says.
Sixty-two percent of In-plants provide mailing services.
Other in-plants report similar positive results from merging print and mail.
"Having our printing and mailing operations under one umbrella has allowed us to improve our business and institutional efficiencies," notes Paul Roberts, director of University of New Hampshire Printing and Mailing Services. "The print-to-mail workflow is faster, there are no costly mail piece design issues discovered at the mailing stage and we have been able to cross train our staff, which allows us to re-deploy our workforce as needed."
IPG research shows that in-plants are expanding their mailing operations, adding digital envelope presses, inserters, addressing equipment, tabbers, mailing software and more. With the demand for personalized mail pieces growing, in-plants are getting heavily involved in the process. Direct mail pieces are one of the top 10 items printed by in-plants, according to IPG survey data, and more than 71 percent of in-plants print direct mail.
In-plants work closely with their organizations' marketing departments to produce and mail these pieces, many of which are personalized. Nearly 72 percent of in-plants produce variable data printing, and about 15 percent of their jobs contain VDP, according to IPG data.
"Over the past several years we have produced an increasing quantity of variable data pieces," remarks John Sarantakos, director of Printing, Mailing and Document Services for the University of Oklahoma. "Printing and mailing at the university have worked hand in hand for years. Mailing is a huge part of our overall operation."