University of Missouri: A History Of Customer Service
Not many in-plants can lay claim to a six-color press—let alone two of them. But when you're the largest printing operation in a city of 84,500, the big jobs have a way of finding you.
With 105 full- and part-time employees, University of Missouri-Columbia Printing Services is not only a local printing giant, but one of the top in-plants in the country. It ranked 27th on the recent IPG Top 50, and boasted sales of nearly $8 million last year.
Walking through the in-plant's 53,000-square-foot main facility, one can truly get a sense of the size and scope of this operation. Its high ceilings, laced with ducts and adorned with a giant hanging American flag, lend a cavernous feel to the plant, while skids piled high with jobs, waiting beside large, churning presses and bindery machines, underscore the tremendous volume of work being processed. Some 600 or so jobs are in production at any given time, with double that number during peak business periods.
Printing Services Director Rick Wise enjoys showing off the impressive facility and can't resist pausing to praise the dedication of employees he passes, like press operators Robert Hagans and Phil Moritz.
"It's not the Heidelbergs and the MBOs that make this place," Wise comments. "It is truly the people."
Those people, and their willingness to adapt to new technologies, have helped the 69-year-old in-plant flourish, giving it a reputation for expertise in both established and cutting-edge technologies. Not only does the in-plant print long runs of award-winning material on its offset presses, (including the In-Print 99 Best of Show winner), it has been a pioneer in developing, utilizing and promoting online job submission.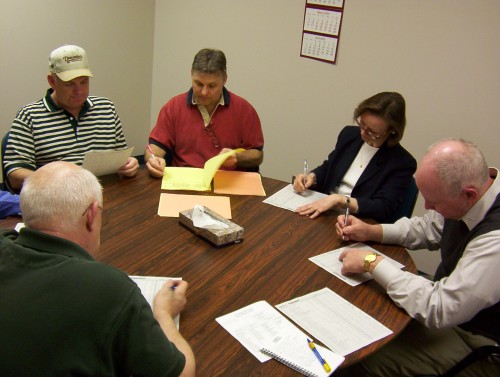 Robust Customer Service
But what makes it stand out most is not its hardware or volume, but its strong focus on customer service.
"We've always had a heavy customer service model here," says Wise, who feels the in-plant needs a "powerful, robust customer service department," not just a bunch of order takers. That department consists of five customer service representatives (CSRs), three CSR assistants and two messengers, all overseen by Supervisor Marcia Doll.
"We just feel like we have to go above and beyond in handling our customers," says Doll, a 12-year veteran of the customer service department. "There's been a lot of budget cuts. People are really looking at what can they get for their money. And they're actually looking off campus."
Commercial printers from all over the state, she says, are "hungry" for business, and they have been calling on university customers.
"That's why we, as customer service representatives, have to do an outstanding job with our customers so that we develop a good relationship with them, so that they don't want to go anywhere else," Doll says.
For that reason, CSRs are available to consult with customers for hours if necessary, willingly providing multiple estimates if requested, or digging into the archives for material that's 10 years old.
"Our CSRs will sit down and talk to somebody in as much depth as that customer wants," Wise says. "We really cultivate those relationships and make sure those people really trust us."
Wise, who became director in November of 1999, after Wayne Merritt retired, was originally hired as a CSR in 1989 by Director Donnie Wren. Wise is quick to credit Wren for stressing the importance of customer service. (In fact, Wren was manager of customer service before Wise took the job.)
Steady Growth
The in-plant's loyal customer base and long history, Wise says, have ensured it the steady workload that enabled it to grow to its present strength.
"We grew during a period when there was a lot of printing," Wise explains.
Because of the large volume of high-profile work it does, like annual reports and magazines, Printing Services was able to justify adding a second six-color press in 1998.
"It's made life a lot easier," notes operator Robert Hagans, between jobs. "The accuracy is much greater."
The 40˝ Heidelberg Speedmaster 102 was purchased free and clear with money the in-plant saved from its own profits. This is one of the benefits of being an unbudgeted, 100-percent chargeback operation, Wise says.
Despite its current strength, Printing Services faced a crossroads a decade ago when a bad choice might have spelled its doom. The arrival of the electronic prepress era caught Printing Services off guard.
"Our people were comfortable and efficient doing things the way they'd always done them," Wise recalls.
Wayne Merritt, director at the time, had some electronic prepress experience, and he saw the need to leave the cold type, paste-up days behind, despite staff resistance, Wise says.
"I don't think there's any question that we would have either gone out of business or lost a significant portion of our business had we not made that transition," he says. "It quickly became one of our greatest strengths."
Software Expertise
Despite many early struggles with the different software programs customers were using, the in-plant established a good reputation for being able to work with any type of file.
"Being able to handle the files efficiently is what transitioned our operation successfully through the '90s," he says. The department's expertise with a variety of programs is also what has kept customers coming back. Wise says no good can come from complaining about the design software a customer has used.
"We are not here to criticize, we are here to get their job out," he says. "That's what keeps business coming here. When you take care of their files, you've made a friend."
To further improve its prepress operation, the in-plant is looking at thermal computer-to-plate equipment for its 29˝ and 40˝ presses, Wise says, and has already moved to a Creo Brisque workflow. The shop produces poly plates for its small presses on a Heidelberg Quicksetter, but will go to metal plates for everything when the new platesetter arrives.
In recent years, the in-plant has been in the forefront of the move toward online job submission (see sidebar). Wise says the operation has also been keeping an eye on new digital color technologies, such as the Xerox iGen3.
"I think iGen3 is an incredibly important development," he says. "It fulfills the dream of super fast turnaround, high quality at a reasonable price."
The in-plant's reaction to variable data printing has been less enthusiastic, however. Merging customer databases with production files has not been easy.
"It's been far more difficult to implement, and [there has been] far less demand than we'd anticipated," he reports.
Still, there is no shortage of digital printing taking place at the in-plant's nine satellite "Quickcopy" centers scattered around campus. With a sophisticated array of mostly Xerox equipment, the Quickcopy operation has a total capacity of 30 million pages per month. The Quickcopy center in the main plant even boasts a wide-format ink-jet printer and laminator.
Though the in-plant has looked into other new services, such as CD burning, Wise feels Printing Services should stick with what it does best: printing. It handles everything from business cards up to the chancellor's annual report.
"We send almost nothing out," Wise says.
In fact, the operation brings some business in from the outside, such as state and local government printing. Its six-color presses are a chief reason for this.
But isn't six-color capability a bit of overkill for an in-plant? Not when you're printing some of the recruiting and athletic department projects Printing Services prints, Wise says.
"We do a lot of four-color printing, and we'll throw on a varnish or a spot PMS or two on those other two units," he explains.
To keep track of all the work flowing through the operation, the in-plant uses Profit Control Systems' AS 400 management system, though it is in the process of converting to Profit's PC-based "Client Series."
"It gives us a lot more flexibility in the job ticket," explains Wise of the upgrade. For one thing, the new job tickets will only include the equipment being used for a particular job, instead of a full list of equipment with check boxes.
"It should be quite an improvement," remarks Production Coordinator Bob Barrett.
Though staying strong and successful after nearly 70 years of operation is a major accomplishment for any in-plant, Wise feels there has been more behind it than just Printing Services' hard work.
"I would credit, more than anything else, administrative support," Wise says. He specifically acknowledges Jackie Jones, the vice chancellor of administrative services, for her support.
This support manifests itself in several key ways, Wise says. The in-plant is given the freedom to properly staff and equip itself to be competitive. Printing Services is allowed to function as a business, and is not forced to conform to a higher-ed model. And administrators support the in-plant by giving Wise clear, objective feedback as to how well it is focusing on the university's mission.
"The bottom line, from my point of view, is that it is a matter of trust," Wise says. "You have to be able to trust your boss and hope she or he trusts and supports you as well. If you are fortunate enough to have that mutual relationship, you have the foundation for what you require to run a successful operation."
E
F
T
Bob Neubauer
Author's page
Bob has served as editor of In-plant Impressions since October of 1994. Prior to that he served for three years as managing editor of Printing Impressions, a commercial printing publication. Mr. Neubauer is very active in the U.S. in-plant industry. He attends all the major in-plant conferences and has visited nearly 170 in-plant operations around the world. He has given presentations to numerous in-plant groups in the U.S., Canada and Australia, including the Association of College and University Printers and the In-plant Printing and Mailing Association. He also coordinates the annual In-Print contest, cosponsored by IPMA and In-plant Impressions.